Welcome to our online shop
Welcome to "2en1" Patchwork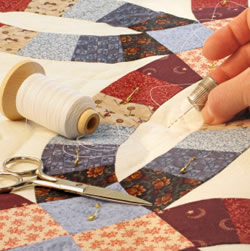 Welcome to 2en1 Patchwork, we are a French based company, specialising in Patchwork material, Patchwork kits, wadding, books, thread and accessories. We have been supplying patchworkers since 2003, and have built up an ever increasing client base of satisfied customers.
With this website we hope to give you lots of helpful information and some top tips on all aspects of the patchwork world. Whether you're looking to buy patchwork material, patchwork accessories or just find out about some of the many techniques involved in this wonderful subject.
We have a shop in the pretty medieval town of Pezenas in the South of France. We stock thousands of patchwork materials, which you can look at by theme e.g children's patchwork material, flower patchwork material or Safari patchwork material. We also have a wide range of plain or Faux Uni, which you can choose by colour.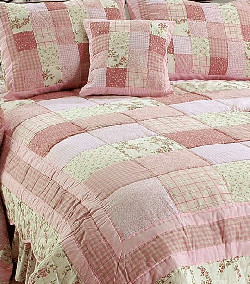 One of the most important aspects of any patchwork is the quality of material used. All our patchwork material is best quality 100% cotton, available in either fat quarters, by the metre or anything above 25cms. Patchwork material is mainly 110cms wide, but we also supply 'grande largeur' which is 2,80m and often used for backing the patchwork.

We also have patchwork kits available, with all the explanations; in English too ! We will be posting information about this soon.

There is a very big social side to patchwork, and a good way of enjoying this is taking patchwork lessons or a workshop. 2en1 run both of these, in fact we have ladies that have been coming to the patchwork lessons for over 6 years, and even though they are now fairly experienced, they enjoy the ambiance, and probably the tea & coffee ! We will be posting details about our patchwork lessons and workshops soon.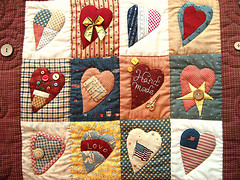 The nice part about patchwork is sharing the experience, and many of our clients love to come back and show us what they have made with our patchwork material. Sometimes these are displayed in our window.
So whether you're looking to read up on patchwork material, patchwork kits, patchwork rulers, or cross stitch or just want to ask a question, 2en1 is here to help.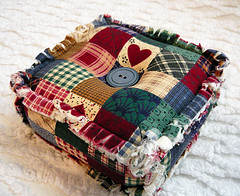 Use the menu on the left hand side of this page to navigate to the category that you are interested in and from there you will be presented with many different pages of information about many topics within that category. (When we've built them that is !) You can return to the home page at anytime by clicking on the "HOME" link at the top of each page.
And make sure you check back regularly to read our "WHAT'S NEW" section. This is the 2en1 blog where you can read about the latest additions to the 2en1 patchwork material stock as well as some helpful tips and tricks on all aspect of patchwork. You can also post a comment so feel free to offer your own tips and observations with our other readers or just ask a question.


Thanks for reading and enjoy the site.
Nicole and Brigitte